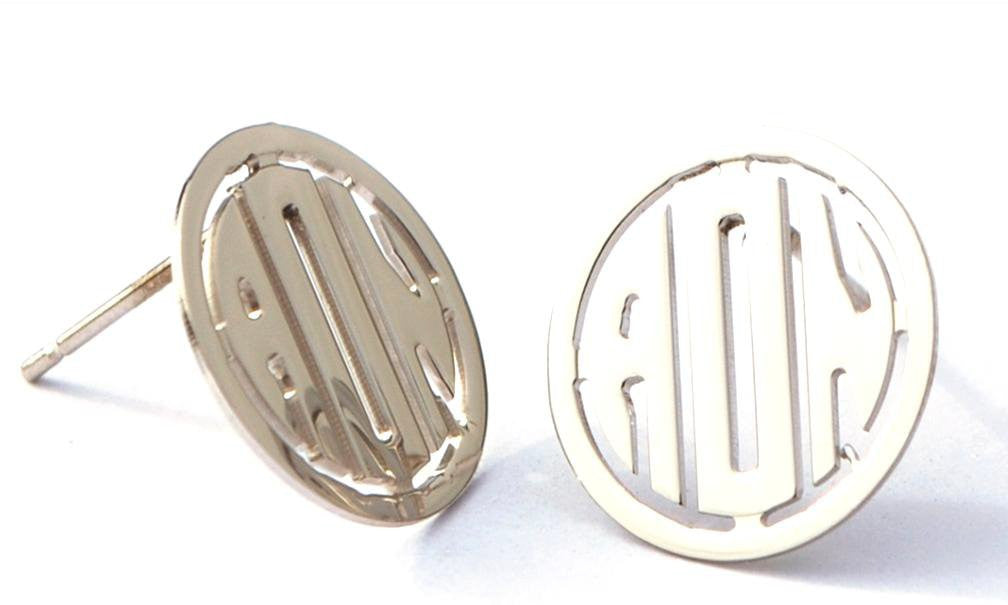 Round Rimmed Block Monogram Earrings by Purple Mermaid Designs
by Purple Mermaid Designs
Our 15mm (little more than 1/2") round rimmed cut out monogram earrings are a wardrobe staple.  Polished to a luxurious finish, these block font earrings are monogrammed just for you.  These monogrammed earrings make the perfect gift idea.
Available in  Sterling Silver, 14K Gold Vermeil, 14K Rose Gold Vermeil , or 14K Gold.
** To qualify as Gold Vermeil, the base must be Sterling Silver, not a base metal. It is then coated in 14K Gold. To be considered Vermeil, the coating must be at least 1.5 micrometers thick. 14K Gold Vermeil will last for many years without tarnishing and without the gold wearing away if you properly care for it. You should avoid wearing gold vermeil jewelry in the bath, shower, or when swimming. Do not have gold vermeil jewelry machine polished or dipped in any cleaning agent, these processes can wear away the gold layer. Use a soft, clean, cloth to remove dirt, oils and other material from the jewelry.

Ships in approximately 2-3 weeks
---
Share this Product
---
More from this collection